More and more RV owners are relying on RV solar panels to help keep them powered. Whether you're hooking up at a local park or unrolling the awning at a campsite, it's nice to have an option for charging your electronics and powering your appliances.
If you're in the market for RV solar panel installations or need someone to service your panels, call the team at CTS RV Repair. We're the preferred solar panel specialist in Salinas, Sanger, Fowler, Clovis, and Fresno, CA, familiar with complete systems and everything needed to install and service them.
Complete Solar Installation Kits
At CTS RV Repair, we have options for all RV and trailer sizes. From 190-watt systems suited for pop-ups, to 380-watt systems for tow-behinds and 570-watt systems for full-sized RVs. Consult with us about kits for complete off-grid camping, as well as kits for just charging RV batteries and everything in between.
Available for consultations, to help you get set up with the right system
We can sell parts and systems for DIY installation, if you prefer
We have access to all batteries, from wet cells, to AGM, to lithium batteries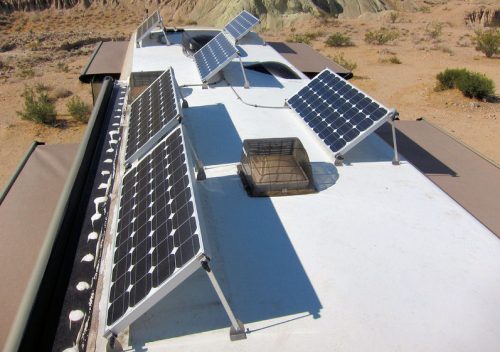 RV Solar Panel Installations
When it comes to installation of your RV solar panels, we're a full-service provider. Our familiarity with these systems covers you from the panels themselves to all wiring, inverters and supplies. No matter what type of system you choose, we'll get it installed right.
Custom installation of parts and systems if you already have a solar system
Solar panel installation on all types of roofs, including rubber, fiberglass and metal
Professional installation of all types of inverters, hybrid inverters and chargers
All the installation work we do is backed by a satisfaction guarantee
We're able to perform on-site installation or in-shop installation in Salinas, CA
Your Source for RV Solar
Ready to upgrade your RV to a solar system? Contact CTS RV Repair today to learn more about the different systems we offer and to get the assistance you need outfitting your RV with a complete solar system. Contact us today at 831-229-9866 to discuss options or to schedule an on-site or in-shop consultation with our experts on mobile home repair, storage, and more.